Simon: Mindcircus, which is the second single to be taken from Intensify, forms a staple part of your Live PA. What has the reaction been to it live and how did you come to meet Trisha who sings on the track?
Jody: The reaction to it seems to be going well. On several occasions we've had the crowd singing along with Trisha, and also taking over the chorus from her. I met Trisha through a friend of a friend here in Bristol, mentioned we were recording tracks for a new album and got Trisha to audition.
Simon: It is rumoured that Stealth, featuring the vocals of Kirsty Hawkshaw will be the next single after Mindcircus. Is this true and who can we expect to see on remix duties?
Jody: Stealth will indeed be the next single, and alongside the long awaited Quivver mix, there will probably be a new club mix from us alongside a few other remixes which havent been decided upon yet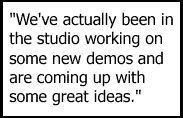 Simon: Seeing as Intensify was completed almost a year and a half ago, have you and Nick got anything together for the follow up yet?
Jody: We've actually been in the studio working on some new demos and are coming up with some great ideas. The "Rollercoaster" track that people have been asking about from our Australian live gig was actually one of the first demos that was finished for Intensify, and who knows, it might get finished one day. We currently have around 30 demos and I've been getting to griips with Soft Synth Absynth, Reactor 3.5 and Logic 5. I also picked up a few cool tricks in Pro Tools from BT when he was over here late last year.
Simon: The much anticipated remix of BT's Shame was recently released after much delay. Can we expect to see your remixes of Lustral's Broken and Kosheen's Hungry released any time soon, and have you been approaced to be do any more remixes that you can tell us about?
Jody: Due to our much documented relationship with BMG, the Hungry remix will never be released. The Lustral remix should be out sometime in the summer. We've also recently completed a remix of Sunscreem's classic Perfect Motion which turned out superbly.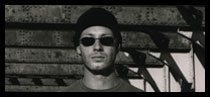 Simon: At the end of last year, BT was over here in the UK doing some collaboration work, one track of which was alongside you. Can you tell us a bit more about this track you and him have been working on?
Jody: The track is awesome. It has this cool chord progression bassline with riffs, drum parts. hi hats and borrows influence from the drum n bass/ jungle era circa 1991-94, yet remains a wam track that rolls along at 129bpm.
Simon: Its now almost 6 months since Intensify was released. Were you relieved to finally get it out to the masses, and how do you think it has been accepted by the public?
Jody: Definitely, with all the issues that surrounded it it was a relief to get it out there, and it tied in nicely with the live show at Creamfields as well which went down superbly. I think it was well received. In fact if anything the delay helped it become even more anticipated
Simon: As well as working as part of Way Out West you've had your own acclaimed mix cd, Way Out There released on Bliss Productions. Last summer you said you were going to do a follow up. Is this still going to happen and when can we expect to see it released?
Jody: I have no idea at the moment. I have not heard anything from Bliss, and right now theres very few records I like that would make me want to do one. Aside from the new FC Kahuna single, and the Ben Burns track Smooth To Touch, theres not been much else thats been grabbing my attention.

Simon: Since your live PA kicked off at Creamfields in August, you have taken it all over the world, from Australia to Budapest. How do you think the show has evolved over the past 6 months?
Jody: I've become a bit more of a nutter on stage, getting on the mic and doing some singing and shouting. We've gradually incorporated more and more elements, and its becoming well accepted all over the world.
Simon: Many people have been asking recently are there any plans for a full tour of the US, both as DJs and with the live show?
Jody: The tour will be starting on 10th April, plus there will possibly be something at the Winter Music Confence. Keep your eyes peeled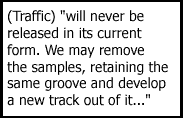 Simon: One track thats been causing a stir is your cheeky remake of the Theme from Traffic, the film starting Michael Douglas. Will this ever be released in perhaps a reworked form, or is it destined to cheeky bootleg heaven forever?
Jody: It will never be released in its current form. We may remove the samples, retaining the same groove and develope a new track out of it, but I doubt it will have any reference to the film.
Simon: What do you think 2002 holds for you, and is there anything you would like to try and do this year that you havent had the chance to do last year?
Jody: I'd like to try and continue avoiding reality.